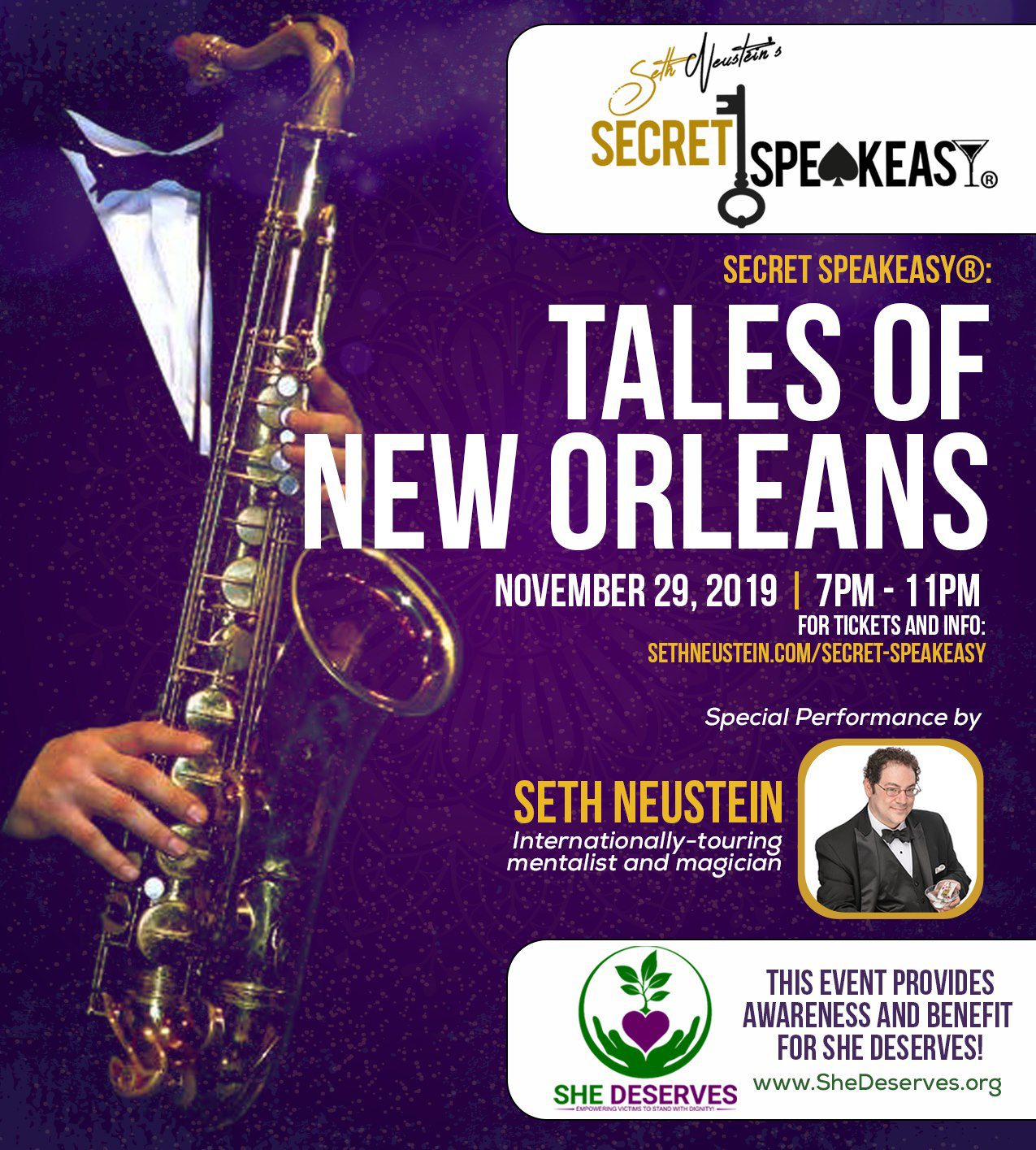 Friday November 29th, 2019 at 7:00 PM Seth Neustein hosts the Secret Speakeasy® Tales of New Orleans
Tickets are available here – Shh:
Internationally touring mentalist Seth Neustein brings an intimate evening of elegant mystery and intrigue to a New Orleans themed Secret Speakeasy®. Join us for an exclusive black tie salon of fine dining, music, and mentalism on Friday, 11/29/19. Located in one of Pittsburgh's private clubs, guests will mingle in a seductive atmosphere and be immersed in magic, mind-reading, jazz music, and other surprises that excite the mind and stimulate the senses.
Our evening begins at 7:00 PM. As guests arrive, they will provide the Secret Speakeasy password to access an intimate salon where a jazz band will set a big easy tone as Seth Neustein performs close-up magic and mind-reading. Guests will mix and mingle in elegance as they enjoy New Orleans hors d'oeuvres and a thematic cash bar. Guests will then dine in elegance as a sumptuous three-course dinner of Cajun and creole cuisines are prepared onsite, using only the finest ingredients.
After dinner, guests will be enthralled by an enchanting evening as Seth Neustein performs his tour de force psychological illusion show. Seth will also share intimate stories of his adventures during the years he studied and performed in the exclusive speakeasies of New Orleans. The show will feature world premiere performances of feel-good psychological mind reading, where participants become the stars. Seth will be your Virgil and guide you through a land of wonder that enables you to read your friends' minds, divine clandestine information, and see into the future. You will determine the direction of the show, altering its course, so that it may never be repeated the same way again. In the Secret Speakeasy, you make the impossible possible.
Appetizers and dinner included in ticket price. Menu options to select when purchasing a ticket (plus appetizers, first course, and dessert): Entrees options: Chicken, Crab & Shrimp Gumbo over rice; chicken & Anduille sausage Jambalaya; Blackened Chicken with peppers, onion, pico de gallo and chipotle aioli (gluten free); Lemon pepper tilapia with remoulade; Creole red beans and rice (vegan) Sides: Crispy Cajun potatoes, Cucumber Tomato Salad in Italian vinaigrette, Fried Okra
Please let us know dietary requirements when completing your dining selections on checkout.
Select the tickets link to explore your options and reserve a limited spot.
INSTRUCTIONS AND PASSWORD
Prior to the Secret Speakeasy, registered guests are provided instructions or cryptic clues to find the secret location, and they are given the secret password to enter. (Entry is prohibited without the password. No exceptions.)
Just like Seth's experiences studying and performing in NOLA where you need to know someone to find the best hidden speakeasies, we are always floating to new intriguing locations. This Secret Speakeasy salon will be held in a newly renovated private club in the heart of Pittsburgh, with easy parking and ADA access. Normally not open to the public, you will experience the elegance of one of the most exclusive secret speakeasies in Pittsburgh. Just like with all of our events, because Seth's heart is always in NOLA, to maintain the fun and mystery, the exact address and password for entry will be revealed through cryptic instructions only to ticket buyers closer to the date.
EXCLUSIVE SUB ROSA TICKET UPGRADES
A limited number of 12 Exclusive Sub Rosa ticket upgrades are available. (Select that option when purchasing your tickets.) The upgrade includes a personalized impossible keepsake to take home, which is created by you or by a special someone. Upgraded guests also receive a personal encore reading from Seth. You will be contacted to obtain the necessary advance information for your personalized experience. Please note, upgrades require a minimum of three days advanced notice for preparations.
SHE DESERVES
Neustein Productions is proud to partner with She Deserves. Together with our guests, we are raising awareness of this nonprofit organization that helps abused women develop confidence and self-worth, so they can become independent, self-reliant, and economically independent.
MORE DETAILS
While the Secret Speakeasy shows are interactive, participation is not required for enjoyment. If you prefer to relax and just watch and enjoy the show, your wishes will be honored.
Neustein Productions offers discounts to the following groups: active military personnel, veterans, senior citizens, and students. Group rates are also available. Please contact us at: SethNeustein.com for more information. All sales are final. No refunds are granted unless an event is cancelled.
WHAT IS A SECRET SPEAKEASY?
Secret Speakeasy® is an enriching theatrical experience that inspires guests to mingle, dine, and drink in elegance among fascinating people within mysterious surroundings. Each Secret Speakeasy is a uniquely designed event that can include close-up magic, psychological illusions, mind reading, cultural musical or dance performances, thematic cocktail and food menus, and other surprises. These interactive performances convene in secret venues such as private lofts or backrooms in upscale lounges around Pittsburgh, PA.
ABOUT NEUSTEIN PRODUCTIONS
Seth Neustein is an internationally touring mentalist, luxury event host, and consultant. Following an early retirement from project management, Seth pursued his lifelong passion and traveled the U.S., apprenticing with many of the worlds' best magicians and mentalists. Since then, he has performed for Fortune 500 companies, hosted exclusive experiences for distinguished society elites, and has realized the truly impossible – a full time career as a creative where he takes joy in crafting one of a kind personalized experiences. To learn more, please visit: SethNeustein.com.
2019 Secret Speakeasy® experiences:
July 3rd, 2019: Naughty or nice…you deserve it… Secret Speakeasy® – Christmas in July tickets are available here: Shhh.
August 7th, 2019: in association with the Organization of Chinese Americans celebrate Chinese Valentine's Day, where star crossed lovers are united just for one day… bring your true love or find your true love in the Secret Speakeasy® – Qixi Festival – Chinese Valentine's Day – tickets are available here: Shhh.
September 20th, 2019: Join us to celebrate the liberation of the aliens – the government doesn't know the secret location yet – no spies allowed! Secret Speakeasy®: Storm Area 51 After Party – tickets are available here – Shh:
October 25th and 26th, 2019: A Secret Speakeasy at a restored historic haunted mansion…The spirits still linger…Do you believe? Discover the truth for yourself…Dine in elegance with chimerical guests on Friday, join the Masquerade on Saturday, contact the spirits in the séance, or stay either night or the entire weekend in our luxuriant rooms – IF YOU DARE! in the Secret Speakeasy® – Skeptic Séance™ and Great American Speakeasy® Halloween Masquerade – tickets are available here – Shh:
November 29th, 2019: join us for an elegant evening to kick of the holiday season Secret Speakeasy® – Tales of New Orleans tickets are available here – Shh:
December 25th, 2019: come in out of the cold to join us in the tiki room for a hidden hideaway tropical luau Secret Speakeasy® – In The Tiki Room – tickets are available here – Shh:
December 31st, 2019: ring in New Year's Eve with a Gatsby themed Roaring 2020s Great American Speakeasy® Secret Speakeasy® – Roaring 2020s Great American Speakeasy® tickets are available here – Shh:
For information on bringing a Secret Speakeasy® or other themed experience to your hometown, a private or corporate event, or a conference/convention, please fill out the contact form below or read more here – Secret Speakeasy®
For more details, please fill out the contact form below.
Interested in scheduling a private Secret Speakeasy®, Great American Speakeasy®, Skeptic Seance®, or a performance of Mental Compass®?
Contact us below for availability, pricing, and experience options:
Please provide as many details as possible. I want to hear everything about your vision!
E-mail: magic@ sethneustein.com
Phone: (412) 336-8330
Seth Neustein is a mentalist and magician based in Pittsburgh, PA and available worldwide.
Secret Speakeasy®, Great American Speakeasy®, Skeptic Séance®, Mental Compass®, PSI-READ™, Cheroot Chicanery™, and Because Everyone Else Just Takes Them To Dinner® are protected trademarks of Seth Neustein and are granted use to Neustein Productions LLC. All content here and at each event is trademark and copyright Seth Neustein and administered by Neustein Productions LLC.