This is just a small sample of what my clients have to say about my magic: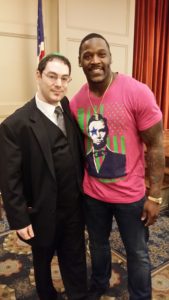 "You and your magic are incredible! Thank you for bringing joy to all of our guests today."
Arthur Moats, Pittsburgh Steelers Linebacker
sports banquet
"We had so many celebrity guests today – yet all I heard as I checked in with each table was how great the magician was. Then they all asked when can the magician come back and do some more magic."
Jeff R, event coordinator
celebrity sports charity fundraiser
"Fun, interactive and true magic!"
Bobbi B, Director of HR
corporate service milestone awards banquet and holiday parties
"Seth was better than the many magicians I have seen in Vegas. I recommend him highly!!!!"
"Seth, thank you again for a wonderful evening. Everyone was entertained by your magic and they are still talking about it. I will highly recommend you to everyone I talk to when it comes to adding entertainment to their party. Please use my name as a reference any time. We have only wonderful things to say about you. Thanks again for everything."
Nancy S, owner
holiday parties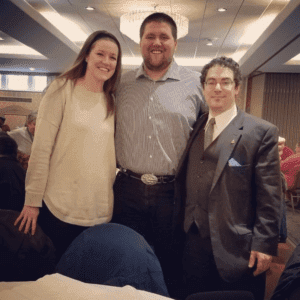 "We had the pleasure of meeting (and being entertained by!) Magician Seth Neustein at yesterday's event. Hit this guy up if you need to spice up your parties, corporate events, family reunions – whatever! You will not be disappointed. MIND = BLOWN."
BJ Finney and Amanda Finney, Pittsburgh Steelers Center
NFL sports awards banquet and fundraiser
"Seth really cared about our needs and created customized experiences for our combined bachelor – bachelorette party and then for our wedding. We have repeatedly hired and recommended him for weddings, holiday, and birthday parties. Seth is an awesome close up and stage magician who works a crowd well and consistently surprises and amuses audiences. Love the invisible deck trick!"
Noah and Elaine L, bride and groom
wedding reception, rehearsal dinner, bachelor and bachelorette party, anniversary, holiday, and birthday parties
"Seth is wonderful! He was so nice to work with and was wonderful and entertaining. I would highly recommend him to anyone and I'll absolutely use him again in the near future."
Stephanie S, Event Coordinator
Country Club Corporate Anniversary Gala
Master Magician Seth Neustein performed at our annual company picnic, and he was a surefire hit! He was so easy to work with, and his flexibility and suggestions in planning were very helpful. Adults and children alike especially enjoyed his strolling magic. We loved how he performed magic in our hands and incorporated us in the comedy magic show finale, too! He understood our corporate culture and adapted so well to our needs during the event. Seth is professional, adaptable, and talented — you will be very pleased when you hire Master Magician Seth Neustein for your next event!
Alexandra V, corporate event planner
employee appreciation event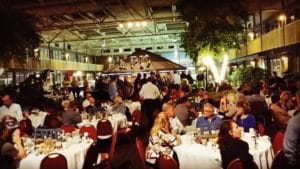 "You have GOT to see this magician we hired – he is so good!  The things he does are just incredible!  I've never seen anything like it!"
Barry S, CEO
annual trade shows, customer appreciation banquets, corporate 65th anniversary celebration
"Thanks so much for your great performances!  Every time I walked by I saw a group of people at your area, even before the Crawl officially started.  You were clearly one of the highlights of this Crawl!  Thanks for being so awesome to work with and I look forward to working together again soon!"
Marqui L, program manager
arts festival/gallery crawl
"Very funny and entertaining. You will love his show. Highly recommended!"
Charles E
conference gala dinner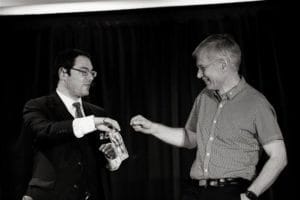 "I loved the magic show.  The baseball(s) reveal in particular blows my mind.  More broadly I love magic (purely as a consumer) so I was thrilled that you were the act.  I only wish I had gotten to participate in a trick.  Another instance of the principle identifying one's ideal outcome in advance.  Next time I will beg to be on stage."
 Additional e-mail to his corporate event planner: Subject: "Favorite part of the conference."  Body: "I love the magician!  Bring him back! :-)"
Alex E, President
speaking engagements; business conferences; academic conferences; corporate mixers, banquets, gala events, cocktail hours; team building events
"We had so much fun with you last year, if you cannot make it this year we will not have any other entertainment. Please tell me you can make it!"
Eric R, CEO
corporate holiday parties, employee awards ceremonies
"I just wanted to again thank you for making our company's birthday party a memorable and enjoyable experience.  You mystified and stupefied people who have a hard time keeping their mouths closed and the attention span of a newt.  They loved you and I loved your performance.  Thank you for the time you put into the party and the amount of time you spent.  It was enjoyed by both the young and old and even when you explained what you did, we were just as astounded as we were before.  Your skill was appreciated by every person you performed for, separately and at the table presentation.  Thank you again, and we will keep you first in our minds for future presentations."
David B.
corporate 65th anniversary/birthday celebration, VIP client hospitality suites and events
"Your magic made our anniversary party one for the books! We show everyone who comes to the house our magical anniversary souvenir. We cleared an entire shelf in our display case because we want you to come back every year and do it again!"
Arlene N, bride
numerous wedding anniversary celebrations, holiday parties
"Seth was very flexible and easy to work with for my event. His ingenuity in presenting illusions at our show that were themed to tie into our organization's purpose was a special treat. I really liked how Seth didn't just do a show, he did the whole event. His work started when the event started. During our opening social hour, Seth walked around and presented magic to small groups and that really got everyone excited about our event.  His after dinner stage show was fun, humorous, and thoroughly entertaining.  We were so ecstatic after his customized show that everyone demanded more.  As a personal encore he did a small close-up show for our executive staff and VIPs.  Not only would I recommend Seth to anyone, I plan on hiring Seth again for our event next year."
John D, corporate event planner
holiday parties, corporate awards banquets, annual shareholder meetings, annual business conventions, team building events, corporate retreats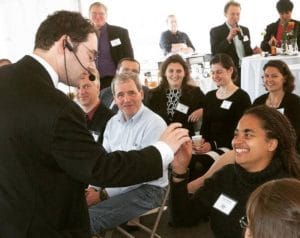 "Mr. Neustein is fun, easy to interact with, extremely reliable and performs excellent magic. What a wonderful talent! He would make a great addition to any sort of gathering."
Cassandra T, corporate event planner
corporate anniversary events, trade shows, product showcases, branding consultation and building, executive and VIP client consults and hospitality suites, corporate retreats, team building events
"I have seen Seth Neustein perform his highly entertaining magic several times now. He is always making people laugh while also making their jaws drop in response to the miracles he makes happen. I would absolutely hire him for any events I was planning."
Loren F, trade show manager
professional conventions and trade shows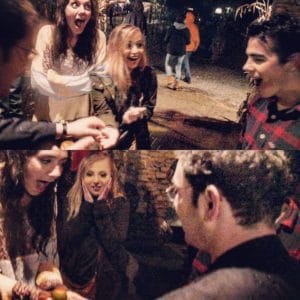 "That was amazing!  The crowds loved you and your show so much!  We've never had such amazing feedback from our entertainment!  It was so unique and fun they just couldn't get enough of you!  Can you come back and do it again tomorrow night?"
JJ, events manager
trade show festivals, holiday parties, organization gala events, training, speaking engagements, team building events
"The day went very well and completely as planned.  Thanks for making the day special.  I will certainly recommend you to anyone looking for entertainment for their gatherings in the future."
Bill S
60th surprise birthday party
Master Magician Seth Neustein recently performed during our wedding reception. He was so entertaining and personable! Can't say enough great things about Seth. Our guests really enjoyed his magic! Seth made us feel so special! We were thrilled to spend extra time with him at the end of the night. This was an unexpected treat for us, and we will always treasure the magical gifts he gave us. Seth, we hope to hire you again. We often do small bonfire parties in the Fall. Perhaps you could add a little magic to them.
Sue and Ross J, bride and groom
wedding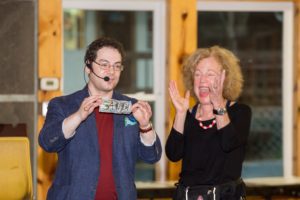 "A great entertainer, but every bit as important, extremely professional and flexible to work with. Seth really came through for us in a pinch."
Mike P, corporate event planner
corporate installation and awards banquet
"It was so much fun having Seth mingle with everyone and perform magic up close throughout the evening. Everyone was laughing and really enjoying themselves. Seth was the life of the party. The show which he then put on later in the evening exceeded all expectations. "How did he do that?!!" was a constant refrain. Seth involved many if not all who were there in his show which added to the enjoyment for everyone. The next day we enjoyed reviewing the evening and again marveling at Seth's magic. In our history this party ranks as an all time favorite event. Seth Neustein played such a large role in making it so memorable.
Without hesitation I can recommend Seth to anyone looking for magic and entertainment of the highest quality."
Jim R, owner
milestone anniversary party
"Seth was absolutely fantastic at my daughter's wedding. I put my trust in him, and he definitely delivered!"
Amory H, father of the bride
wedding
"I just wanted to thank you again for doing your program at our Lodge last night!  It was awesome!  I also wanted you to know that I received 3 phone calls today from different members that attended last night with their wives saying how much they enjoyed the program and the whole evening!  Thanks again for doing that!"
Bob S, President
Masonic Blue Lodge officers installation banquet
"Seth, your magic was incredible, but your real mastery and real magic was in how you made people feel.  You just made everybody feel so wonderful – and that is the true magic – how you connected all of us and made us feel so wonderful and special.  You were a true artist and showed us what life is supposed to be like – full of joy, wonder, and fun. You really filled me and my team with feel good positive energy and made us feel so special and so unique. Our jobs are draining and thanks to you we feel re-energized, like we can take on anything.  It has been months and everyone is still talking about how much fun we had with you and how amazing, funny, genuine, and personalized your show was.  I can't wait to have you back again and again and again. … We know you are already booked on our date, but we will move the date of our holiday party just to ensure we can book you.  Please tell us you are available one day earlier!"
Jo Ann, Manager
corporate service milestone awards banquet, holiday parties
"Seth, I want to let you know that everyone had such an amazing time with you and we're delighted to have had you at the wedding. From what I have heard about your performances, I wished you could have stayed longer. I do know one of my friends tried to book you already but unfortunately you were already booked, so you must have done a fantastic job! Hopefully, we can book you again soon, as you seemed to have been a huge hit! Thanks again and stay magical!"
Jen H, bride
wedding reception cocktail hour
"Seth was a wonderful addition to our holiday party. Very professional and entertaining. All of my guests were extremely impressed."
Amanda B, hostess
holiday party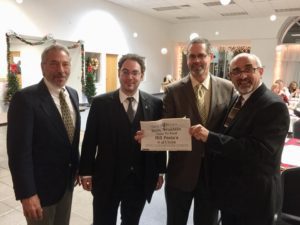 "Magician Seth Neustein was the entertainment for the evening. If you haven't seen his show you don't know what you're missing…. it's magical!!! How did Seth Neustein do this? …. I can't even …."
Bill F, owner, keynote speaker, board member, treasurer
trade association holiday party, annual officers installation, awards ceremony
"It was a fab-U-lous event and well attended. One of the nicest annual events. Seth, you are amazing and extremely talented!"
Tony M, Office Manager
annual company banquet
"Seth, we've had considerable feedback over the past two days and it's overwhelmingly positive. Our employees truly enjoyed your talents."
Lona M, HR Director
5 company picnics, employee appreciation events, executive board room entertainment
"Seth is one of my favorite entertainers. I recommend him for your event!"
John G, CEO
corporate events, annual professional conventions, holiday parties, team building events, corporate retreats, speaking engagements, employee training and consultations
"Seth performed at a country club function that Sandi and I went to last night. Where to begin… His presence made the evening fun. I'm not sure Sandi and I would have had a good time or even stayed as long as we did had Seth not been there. He was well dressed, displaying the proper way to tie a bowtie. He walked around showing each of us magic tricks that were the best I have ever seen. I have seen plenty of magicians in my day and Seth had them all beat. I would say he is one of the best magicians in the country. He has the perfect personality to co-mingle with any crowd, ours being upper class. He even had the decency to hang out with us afterward and did more magic. Sandi even thought he was good looking (calm down Sandi). I guess the women like the magic 😀. I would hire Seth to do any function for me, heck I would hire Seth just to be my friend after the show he put on last night. If you want someone to be the nicest, coolest, most talented, best dressed, and most personable attraction at your function, Hire Seth. He will leave you speechless."
David L, Club Member Guest
Country Club Corporate Anniversary Gala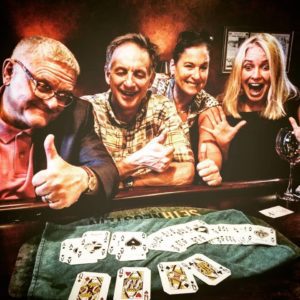 Let's Talk About Your Event and Figure Out How to Make it Awesome!
Simply fill out the form below for a free consultation and I will get back to you within 24 hours.
Please provide as many details as possible. I want to hear everything about your event!
Make Your Event Magical

To receive a customized proposal for your event, please fill in the form below.
Seth Neustein is a magician and mentalist based in Pittsburgh, PA and available nationwide.
E-mail: magic@ sethneustein.com
Phone: (412) 336-8330