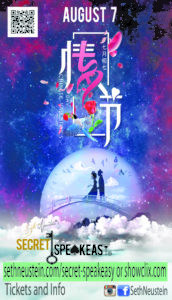 On Wednesday, August 7th, 2019 at 7:00 PM Seth Neustein hosts the Secret Speakeasy® – Qixi Festival – Chinese Valentine's Day – tickets are available here: Shhh.
We are proud to partner with She Deserves to bring awareness to help abused women to develop confidence and self-worth, so they can become independent, self-reliant, and take pride in developing their own security, with economic independence.
Star crossed lovers united …
Legend tells of a love story between the weaver girl, Zhinu (the star of Vega) and the cowherd, Niulang (the star of Altair). Their love was forbidden and they were banished to opposite sides of the Silver River (the Milky Way). Once a year, on the 7th day of the 7th lunar month, a flock of magpies forms a bridge to reunite these star crossed lovers for just one day…
On this day we celebrate the Qixi Festival, or the Double Seventh Festival: Chinese Valentine's Day:
The evening will recreate a romantic Qixi Festival indoors – filled with close-up magic and readings, craft stations from renowned experts such as Chinese calligraphy and Chinese knot art, performances of silk and iron fan dance, performances from a world master of the pipa – the Chinese lute – who  performed with Yo Yo Ma's Silk Road Ensemble, immersive art installations, and more.
Bring your true love – or find your true love. You never know who you will meet in the Secret Speakeasy®…
Join Seth Neustein in collaboration with the Organization of Chinese Americans – OCA Pittsburgh this August 7th for a once in a lifetime Secret Speakeasy® – Qixi Festival. These epic theater and cultural events are made possible by you and quality sponsors: Calvin Sales, Financial Services Professional w/ New York Life Insurance Co, Women's Small Business Association – WSBA, KGrandy Media Co.
Seth Neustein has hosted his exclusive Secret Speakeasy® experiences to sold out audiences across the US since 2016. Due to popular demand he is now bringing one of these unforgettable events to Pittsburgh.
Secret Speakeasy® is an exclusive one of a kind themed experience set in a secret venue in or near downtown Pittsburgh. Locations can be private lofts, high end lounge back rooms, private speakeasies…
Guests will be provided with instructions or cryptic clues to find the hidden location and the password for entry. You can't enter the Secret Speakeasy® without the password – no exceptions!
Because people kept asking, we will spill one surprise early – yes, due to overwhelming demand, Seth Neustein will be performing his tour de force psychological illusion show designed specifically for just this intimate experience. The show will feature world premiere performances of brand new feel-good psychological mind reading pieces where you have the opportunity to be the star. You will determine the direction of the show, making it unique and unrepeatable – altering its course so that it is never the same way once. Seth will be your Virgil guiding you through a land of wonder – enabling you to read your friends' minds, divine clandestine information, and see into the future. In the Secret Speakeasy® you will make the impossible possible.
While the Secret Speakeasy® shows are interactive, participation is not required for enjoyment. If you prefer to relax and just watch and enjoy the show your wishes will be honored.
Dress Code: Black tie optional – cocktail … or appropriate formal Qixi festival attire
Because a custom cocktail menu will be available, this Secret Speakeasy® is 21+
A limited number (only 12 this time!) of Exclusive Sub Rosa ticket upgrades are available. Use them to celebrate a special occasion or reason to make that special someone, a client, or even your boss know you care and appreciate them. In a time when everyone else just takes them to dinner, you can show them that you are willing to go above and beyond to do something truly memorable and unique just for them.
Purchase of an Exclusive Sub Rosa ticket upgrade includes the guarantee of a unique impossible magical keepsake to take home with you created by you or that special someone and a personal encore reading from Seth after the show. Seth will contact you directly to obtain the necessary advance information for your personalized experience. A minimum of 3 days advance notice for preparation is required.
We offer military, senior citizen, and student discounts. Group rates are also available. Please contact us for more information. All sales are final. No refunds unless event is cancelled.
Seth Neustein is an internationally touring mentalist, luxury event host, and experience curator. Following an early retirement from project management, he pursued his lifelong passion and traveled the US apprenticing with many of the worlds' best magicians and mentalists. Since then he has performed for Fortune 500s, hosted exclusive experiences for distinguished society elites, and has realized the truly impossible – a full time career as a creative where he takes joy in crafting one of a kind personalized experiences. That is, Seth specializes in gifting you with cherished lifelong memories.
2019 Secret Speakeasy® experiences:
July 3rd, 2019: Naughty or nice…you deserve it… Secret Speakeasy® – Christmas in July tickets are available here: Shhh.
August 7th, 2019: in association with the Organization of Chinese Americans celebrate Chinese Valentine's Day, where star crossed lovers are united just for one day… bring your true love or find your true love in the Secret Speakeasy® – Qixi Festival – Chinese Valentine's Day – tickets are available here: Shhh.
September 20th, 2019: Join us to celebrate the liberation of the aliens – the government doesn't know the secret location yet – no spies allowed! Secret Speakeasy®: Storm Area 51 After Party – tickets are available here – Shh:
October 25th and 26th, 2019: A Secret Speakeasy at a restored historic haunted mansion…The spirits still linger…Do you believe? Discover the truth for yourself…Dine in elegance with chimerical guests on Friday, join the Masquerade on Saturday, contact the spirits in the séance, or stay either night or the entire weekend in our luxuriant rooms – IF YOU DARE! in the Secret Speakeasy® – Skeptic Séance™ and Great American Speakeasy® Halloween Masquerade – tickets are available here – Shh: 
November 29th, 2019: join us for an elegant evening to kick of the holiday season Secret Speakeasy® – tickets are available here – Shh:
December 25th, 2019: come in out of the cold to join us in the tiki room for a hidden hideaway tropical luau Secret Speakeasy® – In The Tiki Room – tickets are available here – Shh:
December 31st, 2019: ring in New Year's Eve with a Gatsby themed Roaring 2020s Great American Speakeasy® Secret Speakeasy® – Roaring 2020s Great American Speakeasy® tickets are available here – Shh: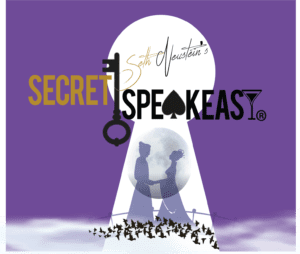 For information on bringing a Secret Speakeasy® or other themed experience to your hometown, a private or corporate event, or a conference/convention, please fill out the contact form below or read more here – Secret Speakeasy® 
For more details, please fill out the contact form below.
Interested in scheduling a private Secret Speakeasy®, Great American Speakeasy®, Skeptic Seance®, or a performance of Mental Compass®?
Contact us below for availability, pricing, and experience options:
Please provide as many details as possible. I want to hear everything about your vision!
E-mail: magic@ sethneustein.com
Phone: (412) 336-8330
Seth Neustein is a mentalist and magician based in Pittsburgh, PA and available worldwide.
Secret Speakeasy®, Great American Speakeasy®, Skeptic Séance®, Mental Compass®, PSI-READ™, Cheroot Chicanery™, and Because Everyone Else Just Takes Them To Dinner® are protected trademarks of Seth Neustein and are granted use to Neustein Productions LLC. All content here and at each event is trademark and copyright Seth Neustein and administered by Neustein Productions LLC.