Dates Book Quickly, Check Availability Now for Holiday Party Entertainment for your event!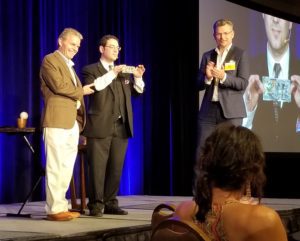 Holiday party entertainment is the one thing everyone remembers most clearly for years.  It makes or breaks the success of your event.  Whether your company calls it a holiday party, a winter event, or a Christmas party – you need it to be a hit.  This might be the one time all year where you get everyone together.  You want them to have a good time, build camaraderie, and be thanking you for the best time they have had in years.  If you add the fact that significant others will be there, it is easy to see why you need to do something special.  Something that will appeal to everyone and leave them with lasting great memories of the event.
Hilarious Holiday Party Entertainment with a Positive Message
Seth Neustein's holiday party entertainment combines comedy and magic with a positive message that will lighten the mood, reduce the stress, and ensure people are laughing and having a great time.  It is an interactive event that gets everyone involved and really raises the energy level of the room.  As people arrive, Seth acts as the Mystery Guest who greets party goers by performing interactive, comedy close-up magic right in their hands and under their noses!  It is the perfect way to set the scene for the evening.  After dinner your guests will be treated to a corporate clean stand-up magic show filled with hilarious, interactive, feel good comedy magic that will have everyone in the room laughing, cheering, and thanking you for giving them such a memorable, fun, and unique experience.  It is the kind of holiday party entertainment your guests will rave about so much you will wonder how on Earth you are going to top it next year!
Do not forget to ask Seth how to make the show even more personalized for your guests, theme, branding, and VIPs.  Nothing makes your guests happier than a show with customized presentations personalized specifically for your organization!
"It has been months and everyone is still talking about how much fun we had with you and how amazing, funny, genuine, and personalized your show was."

"Seth, your magic was incredible, but your real mastery and real magic was in how you made people feel.  You just made everybody feel so wonderful – and that is the true magic – how you connected all of us and made us feel so wonderful and special.  You were a true artist and showed us what life is supposed to be like – full of joy, wonder, and fun. You really filled me and my team with feel good positive energy and made us feel so special and so unique. Our jobs are draining and thanks to you we feel re-energized, like we can take on anything.  It has been months and everyone is still talking about how much fun we had with you and how amazing, funny, genuine, and personalized your show was.  I can't wait to have you back again and again and again. … We know you are already booked on our date, but we will move the date of our holiday party just to ensure we can book you.  Please tell us you are available one day earlier!"

Jo Ann, Manager
You can read more reviews like this HERE – Corporate Event Reviews
Contact Seth Neustein today for a free customized event consultation.  Seth's one goal is to make sure your event is a big hit!! Please provide as much information about your event as you can to get the fastest response.  Or get your question answered now by calling (412) 336-8330.  Seth Neustein is a corporate magician, MC, and speaker who is centrally based in Pittsburgh, PA and available nationwide.
So give yourself a high five and make sure your employees are thanking you for the rest of the year for the best holiday party experience they have ever had!
For information on booking Seth for an event or on bringing a Secret Speakeasy® or other themed experience to your hometown, a private or corporate event, or a conference/convention, please fill out the contact form below or read more here – Secret Speakeasy® 
For more details, please fill out the contact form below.
Interested in scheduling a private Secret Speakeasy®, Great American Speakeasy®, Skeptic Seance™, or a performance of Mental Compass™?
Contact us below for availability, pricing, and experience options:
Please provide as many details as possible. I want to hear everything about your vision!
Seth Neustein is a mentalist, magician, and luxury event host and consultant who is centrally based in Pittsburgh, PA and available nationwide.
E-mail: magic@ sethneustein.com
Phone: (412) 336-8330