10 Reasons To Hire A Wedding Magician
A wedding themes and wedding ideas guide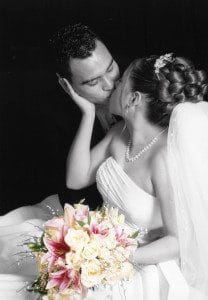 Your wedding is the first joyful step towards a lifetime of matrimony and bliss. You and your fiancée will be taking the ultimate vows to commit to each other. It is the most romantic and magical day of your life. You want your wedding to feel unique – tailored to you – so that not just you, but all of your friends and family remember it fondly for years and decades to come. You are also going to be very busy that day – making it difficult to ensure that your new and existing family's needs are taken care of. You will require reliable staff who will see to it that your wedding is enjoyable and all of your guests are tended to.
A great wedding idea is to hire a magician for your wedding entertainment. An experienced wedding magician simultaneously adds fun, distinctiveness, and class to your wedding while ensuring that your wedding day runs smoothly and is magical both in spirit and in reality.
Below are 10 of the reasons why hiring a magician is right for your wedding entertainment.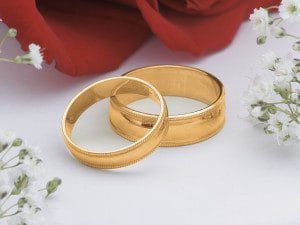 1) A wedding magician adds romance and makes your special day unique:
Incorporating a magician turns a seemingly cookie cutter wedding into an event that enhances the joy, mystery, and romance of the occasion you are celebrating – the union of your lifelong love and commitment to each other. Your wedding day is the enactment of two becoming one. Using a magician to blend all of the things that you and your fiancée love is a fabulous way to showcase your newly unified lives while simultaneously energizing the event.
2) A wedding magician helps to set the ceremony's tone and perfectly integrates with your chosen wedding theme:
The wedding magician will customize his magic to your unique style, making your wedding day distinctive and even more about you and your partner. A great magician adds a level of mystery and enhances the romantic theme of the day by sharing magic that incorporates symbolic items like the cake or the rings. You may even have him perform a full show to end the celebration on a high note. In addition, having a magician can help incorporate a wedding theme into the reception. A good wedding magician will be flexible and tailor his performances to perfectly match your wedding theme.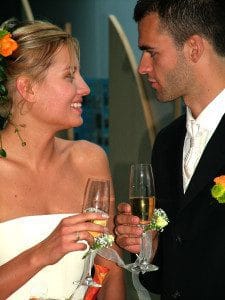 3) A wedding magician keeps your guests happy and occupied so you do not have to:
Having wedding entertainment is essential. A band or DJ is rarely enough to keep guests occupied. The music is in the background while a magician directly captivates the attention of your guests of all ages. This makes having a magician the best way to entertain your guests in that crucial hour following the ceremony. When the wedding party is busy with the photographer, the guests are left to their own devices. From the guests' perspective this is the dullest part of the day. A good wedding magician will keep you worry free, safe in the knowledge that your guests are happy while simultaneously helping to ensure that you remain undisturbed so you can tend to more urgent matters.
Additionally, if you are running behind schedule, a wedding magician will seamlessly fill in the gaps – keeping everything running smoothly from the perspective of the guests. A good professional magician knows when and where to fill otherwise empty spaces and keeps the guests enthralled long enough for things to get back on track. The wedding magician helps to ensure that no one even notices there was a delay.
4) A wedding magician gets the fun started:
It is not uncommon to find that guests are uncomfortable or shy during the slow period between the wedding dinner and the start of the wedding reception's music and dancing, making it difficult to get the party started. By setting a joyful tone and increasing the fun factor, a wedding magician can help to break up any awkward tension in the room – thereby ensuring that the guests are enjoying your magical wedding reception.
This is as true during the wedding reception as during the time prior to the wedding ceremony. As everybody gathers and waits for the couple to arrive, a wedding magician can perform stroll around magic that will bring families and friends together. By performing for small groups of people, they gather a crowd, breaking the ice for friends and relatives who have never met or have not spoken in years. The wedding magician will seamlessly integrate introductions and give people reasons to not stand around by themselves. This provides people with icebreakers and reasons to start talking. Before you know it everyone is laughing, getting along, and loving the festive, joyous spirit of your magical wedding.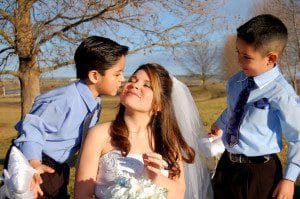 5) A wedding magician makes things memorable:
Whenever you hear people talk about having attended a wedding, there can be an impression that it was nothing special, just another run of the mill, boring wedding. Having a wedding magician helps to ensure that the experience is one everyone who attends will remember forever. Out of the many weddings that people attend over the courses of their lives, using a wedding magician will ensure that your magical wedding is the one that they remember fondly and gush over for decades to come.
6) A wedding magician adds variety to the wedding entertainment:
More often than not the wedding entertainment is just a band or a DJ. Such wedding entertainment is commonplace and does not leave a lasting positive impression. A great way to break up the malaise in a room is to use a wedding magician to add the spice of liveliness of variety – truly making your special day a magical wedding to remember.
7) A wedding magician works well with other wedding entertainment options:
A great wedding magician is collaborative by nature. The wedding magician will be able to work with your band, DJ, and any other wedding entertainment to create a cohesive balance with which to enhance everyone's performances and make your special day all the more unique and special. By working seamlessly with the other wedding entertainment, the wedding magician will coordinate, enhance, and punctuate the wedding theme. This extra touch of professionalism is what will push your wedding reception from good to a truly fantastic, unique, magical wedding to remember fondly for years to come.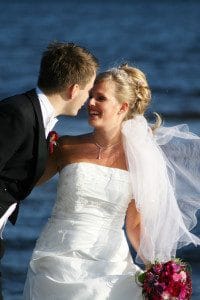 8) A wedding magician appeals to both the younger and older guests:
Wedding magicians are family friendly wedding entertainment and appeal to both adults and children alike. In addition to entertaining your more mature friends and relatives, it is important to have an experienced professional at a wedding that is skilled at helping to keep an eye on the little ones by entertaining them throughout the various events of the day. Be that during the wedding ceremony, the wedding reception, or during the picture taking. A wedding magician can bring laughter and smiles to all ages. An experienced wedding magician has a specialized skill in enticing even the shyest and most reticent darling to come out of his or her shell and join in the festivities. It will be an experience both the young and old will cherish for the rest of their lives.
9) A wedding magician fills the space:
Something a lot of people do not think about when renting large venues is that the band is rooted to one area. They are not mobile. A wedding magician is able to mingle amongst your guests and really interact with them on a personal level. This ensures everyone is having a good time no matter where they are physically located.
10) A wedding magician will personalize his magic to you – the happy couple:
An interesting thing about wedding magicians is that the content of their acts are full of the spice of variety. A good wedding magician will be flexible with his material and customize his presentations to your theme, ensuring that it is the right fit to breathe a unique style into your magical wedding. This means that you can truly use the wedding magician to generate wedding ideas or to perfectly match your wedding theme. For example, Magician Seth Neustein specializes in personalized, meaningful, romantic magic where the newleyweds craft a unique, impossible keepsake through the power of their love. This serves as a reminder that through their love, together the happy couple can accomplish the impossible.
For a beautiful example of Seth Neustein's personalized performances, please see this recent feature news story of a magical marriage proposal he recently planned and performed (spoiler: she said "Yes!").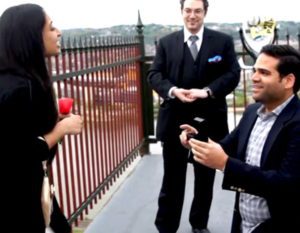 When you are planning your wedding, contact Seth Neustein today for a free customized consultation. Seth's one goal is to make sure your special day is as unique as your love for each other and is magical both in spirit and in reality! Please provide as much information about your special day as you can to get the fastest response. Seth Neustein is centrally based in Pittsburgh, PA and available nationwide.
Simply fill out the form below for a free consultation and I will get back to you within 24 hours.
Please provide as many details as possible. I want to hear everything about your vision!
E-mail: magic@ sethneustein.com
Phone: (412) 336-8330
Seth Neustein is a mentalist and magician centrally based in Pittsburgh, PA and available worldwide.
Secret
Speakeasy®
, Great
American Speakeasy®
, Skeptic
Seance®, Mental
Compass®, PSI-READ™, Cheroot Chicanery™, and Because
Everyone Else Just Takes Them To Dinner® are
protected trademarks of Seth Neustein and are granted use to Neustein
Productions LLC. All content here and at each event is trademark and
copyright Seth Neustein and administered by Neustein Productions LLC.